How to Pay for Your LPN Training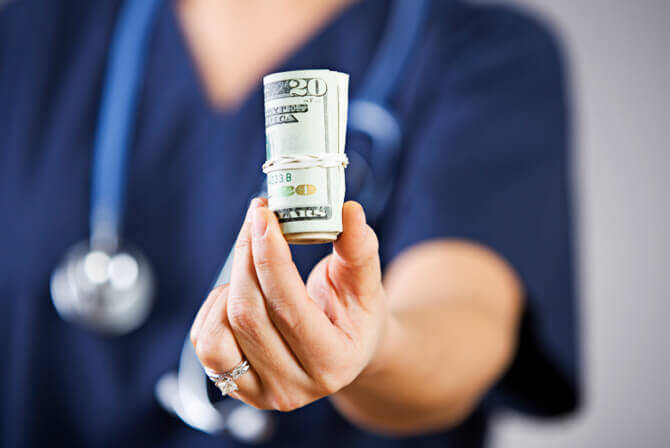 College expenses can be stressful for both LPN students and their parents. This is especially true for families who are having trouble making ends meet. Fortunately, there are some great ways for you to pay for your LPN training, and in some cases, you may not need to pay the money back! Just what are these methods? Read on to find out.
Federally Funded Pell Grants
One of the most popular ways for LPN students to pay for their education is through federally funded Pell Grants. Pell Grants are funds that are offered by the United States Department of Education to students who can prove that they are financially unable to pay for their education on their own.
Depending on you and your parents' yearly income, if you meet the requirements for a Pell Grant, you can receive up to $5,730 per year for your college training. This figure is current as of 2015. The reason that Pell Grants are so popular is that you do not have to repay any funds you receive! To be eligible for one of these grants, you will need to meet the following criteria:
Submit an Application for Federal Student Aid
Prove Financial Need by Submitting Your Federal Income Tax Forms
Enroll in an Approved Program in an Accredited Facility
Complete at Least 12 Credit Hours Per Semester
Maintain at Least a 2.0 GPA
Federal Student Loans
Another terrific way to pay for your LPN training is by applying for a federal student loan. The United States Department of Education offers four loan programs for both undergraduate and graduate students who are having trouble paying for their education. Unlike Pell Grants, these funds will need to be repaid. However, in most cases, you will not need to begin payments on your loan for several months after you graduate!
While you will also need to pay interest on your loan, the interest rates for federal student loans are much lower than those that are offered by banking institutions. Furthermore, depending on the type of loan you receive, interest may be deferred until after graduation! To qualify for a federal student loan, you must do the following:
Complete and Submit a Federal Student Aid Application
Submit Proof of Income (Federal Tax Forms, W-2s or Check Stubs)
Enroll in an Approved Program at an Accredited Facility
Complete at Least Six Credit Hours Per Semester
Maintain at Least a 2.0 GPA
Nursing Scholarships
Although most nursing scholarships are geared towards students who are working towards associate or bachelor degrees, it is possible for LPN students also to find scholarships. You may need to conduct a bit of research to find these funds, but your efforts will be well worth it in the long run.
The requirements you will need to fulfill for a scholarship vary depending on the institution offering the funds. However, there is a vast array of scholarships available to nursing students at any given time. Some of the best places to look for scholarships are:
Your School's Financial Aid Office
Nursing Scholarship Websites
Your Local Library
National Nurse Associations
Your State's Board of Nursing
Student Loans from Banking Institutions
Finally, if you have tried all of the above methods with no success, you may want to consider applying for a student loan from a banking institution. While the interest rates on bank loans can be a bit higher than federal loans, this is an excellent choice for students who do not qualify for other forms of help.