How to Renew Your LPN License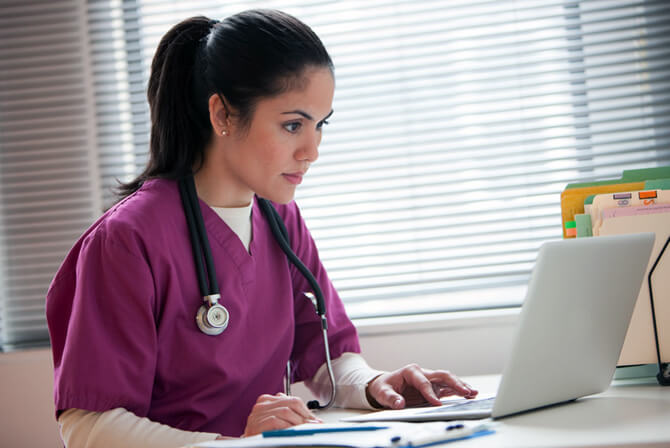 To be professionally employed as a licensed practical nurse, or LPN, you must obtain your LPN license. Employers expect LPNs to maintain their skills and knowledge. To ensure this, LPN licenses expire every few years. To keep them current, they must be proactively renewed. Many times, you must provide proof that you have been continuing your education and that you have been gainfully employed as an LPN during that time. Learn more about what renewing an LPN license entails to ensure that you are ready to act when the time comes.
1. Find Out When Your LPN License Expires
Your LPN license should have an expiration date printed right on it. The period of time during which an LPN license remains valid after being issued or renewed varies by state. In some states, LPN licenses expire on or near the license holder's birthday. In other states, all LPN licenses come up for renewal on odd- or even-numbered years. Although it varies, LPN licenses typically remain valid for two years at a time. Make a note of the expiration date of your license, and make sure that you act in a timely manner to avoid any problems.
2. Prepare to Renew Your License
Don't wait until the expiration date is nearly upon you to renew your LPN license. Should it expire before you can renew it, your employer may require you to take time off until you get it straightened out. Check with your state board of nursing to find out how the renewal process works. In most states, LPN licenses can be renewed over the internet. In that case, all that you usually need is your licensing information and a major credit card. If you are unable to renew yours online, you will either have to do it in person or by mail. Find out the steps that are involved in each so that you are ready to go when the time comes.
3. Gather Everything That You Need
Every state board of nursing has different requirements for renewing an LPN license. However, the vast majority require LPNs to provide proof of continuing education. Most of the time, continuing education units, or CEUs, can be earned through free online programs that are offered by the board of nursing. Many state boards of nursing publish informational booklets that can be used to earn CEUs as well.
You may also be required to provide evidence that you have been gainfully employed as an LPN for a minimum period of time. In most states, the minimum amount of time is at least one month. You do not necessarily have to be currently employed when renewing your license. The board of nursing just needs confirmation that you have been maintaining your nursing skills since your license was last renewed.
4. Pay the Renewal Fee
Not surprisingly, a fee is involved in renewing an LPN license. Luckily, however, the renewal fee tends to be quite reasonable when compared with the fee that you paid upon initially receiving your license. Avoid surprises by visiting your state board of nursing's website to find out the fee ahead of time. Keep in mind that the fee may change, so check again prior to renewing your license. In most cases, this fee can be paid with a major credit card. If you physically go in person to renew, you may be able to pay it with cash or check.
5. Renew Your LPN License Online
If you are concerned about finding time to renew your LPN license, check to find out if your state board of nursing allows you to do so online. Most boards of nursing offer this option, and more are beginning to offer it every year. Typically, the page where you verify the state of an LPN license is the same one from which you can renew one. Keep in mind that you must still provide proof of CEUs or of employment status, so have those documents ready to either upload or mail to the state.