What Can You Anticipate During LPN Training?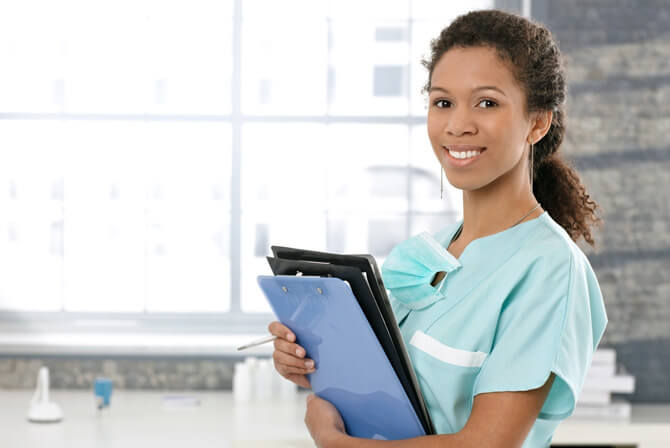 Assuming that you have met all prerequisites for an LPN program, you may now be wondering just what will be involved in your LPN training. Basically, there are four aspects of LPN training that you will need to complete, and they include classroom-type instruction, laboratories, clinicals, and an extern or internship.
LPN Classroom Instruction
LPN classroom instruction, also known as LPN theory, mainly consists of a variety of career-related coursework that will prepare you for the position of a practical nurse. However, if you choose to attend a community college, you may need to complete several general education (GE) courses as well.
General Education and career-related classes can be completed in a traditional classroom setting, through distance education, or through an online training center. Each facility determines the types of courses that LPN students must complete. As such, the classes you will need to take will vary depending on your chosen school.
General Education Requirements
General education courses are often required if you attend a community college, and they can vary depending on your placement exam scores. However, some typical GE coursework can be found below:
Interpersonal Communications or Public Speaking
Computer Skills
Intermediate Algebra
English Composition
Developmental Psychology
Introductory Chemistry
General Biology
Microbiology
Human Anatomy and Physiology
Career-Related Requirements
The main part of your LPN program consists of a large variety of career-related courses. These courses also vary depending on your school, and it is important to keep in mind that the names of these classes may differ as well. Nevertheless, some common career-related courses in an LPN program are as follows:
Human Nutrition
Geriatric/Elder Care
Hospice/Palliative Care
Emergency Room Nursing
Community Health Nursing
Pediatric Nursing
Current Trends in Practical Nursing
Pharmacology
Mental Health Nursing
Laboratories
Laboratories go hand-in-hand with many of your general education science courses. These classes provide you with an opportunity to examine topics in greater detail than you would during classroom lectures. General education science courses that often require laboratories in addition to classroom instruction include:
Introductory Chemistry
General Biology
Microbiology
Clinical Training
Clinical training is performed after you complete the classroom portion of your program. Each state requires LPN students to complete a certain number of clinical hours before they can graduate. This type of training will provide you with direct hands-on experience necessary for an LPN career. During your clinical training, you will obtain many essential skills such as those listed here:
Administering IVs
Placing and Maintaining Catheters
Taking and Recording Vital Signs
Administering Injections and Medication
Transporting and Moving Patients
Performing CPR
Collecting Samples for Lab Analysis
Collecting Patients' Medical Histories
Maintaining Patients' Files
LPN Internships and Externships
Finally, while completing an LPN intern or externship is not required for you to obtain an LPN license, doing so can significantly boost your chances of finding a great job. Your school or local Board of Nursing can help you locate an intern or externship in your area. If you choose to sign on to an intern or externship, you can choose to work in any of the following facilities:
Public Hospitals
Community Health Centers
Family Medical Clinics
Nursing Homes
Private Physician Offices
Urgent Care Centers