Clinical Training in LPN and LVN Programs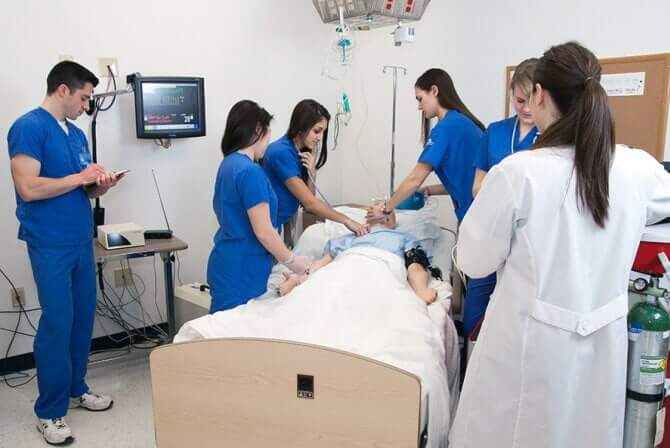 Before you can provide medical care to patients as an LPN or LVN, you must acquire the knowledge and skills necessary for your chosen profession. Basically, this includes three different types of instructions: classroom-based, laboratorial and clinical. Clinicals are especially important because they provide students with actual hands-on training in the various aspects of nursing procedures and techniques.
Where Are Clinicals Conducted?
In some cases, your school may have its own facilities specially designed for clinical instruction. However, it is more common for community colleges and trade schools to conduct their clinical training sessions in a nearby medical facility. If you choose to complete your practical nursing program online, make sure that your school has an agreement with a local hospital or nursing home that will allow students to perform their clinicals within the facility.
What Will You Learn in Clinicals?
Now, you may be wondering just what types of skills you will learn during the clinical portion of your LPN training. The skills you will be taught during clinicals involve direct patient care as well as various administrative tasks that are necessary for practical and vocational nursing careers. A sample of the tasks you will learn to perform during clinicals can be found below:
Taking and Recording Vital Signs
Administering Injections and Medication
Drawing Blood for Lab Analysis
Applying and Changing Dressings
Assisting Patients with Personal Hygiene
Practicing Proper Infection Control
Filling Out Medical Reports
Tracking Inventory and Supplies
Treating Bedsores
Moving and Transporting Patients
Performing CPR
How Should You Prepare for Clinicals?
There are several things you will need to do to prepare for each clinical training session. First of all, you must make sure that you have all of the necessary equipment, which typically includes a stethoscope and thermometer as well as a pen and a small notepad. You will also need to wear the required uniform during each clinical.
Uniforms may vary depending on your school and the facility where you conduct your clinicals. As such, you will want to be sure to check with your instructor as to the proper dress code for this section of your training. Finally, it is essential that you show up on time for each and every clinical, as you will be graded on punctuality.