Celebrities Who Began Their Careers as Nurses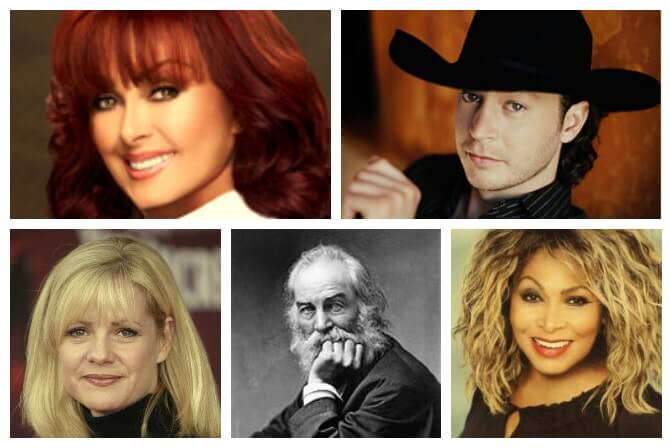 Nursing careers are among the most popular professions today. Not only do they offer comfortable wages and job security, but also a lot of personal satisfaction and emotional rewards. In the past also, both recent and distant, and also in the present, distinguished women and men of different professions were nurses first. Celebrities are no exceptions.
From famous authors and singers to TV show personalities and movie stars, a variety of celebrities can trace their roots back to the noble field of nursing.
Naomi Judd
If you are a country music fan, you most certainly know who Naomi Judd is. Judd began her extraordinary musical career as a singing duo along with her daughter, Wynonna. The Judds scored a large number of accomplishments including 15 number one hits, 20 top ten hits, eight consecutive wins as country music's top duo, and five Grammy Awards.
However, long before Judd began singing with her daughter, she attended the nursing program at California's College of Marin. Specializing in intensive care and midwifery, Judd used her nursing care to support her two daughters, Wynonna and Ashley. With the help of one of her patients, Judd was able to secure an audition with RCA.
Bonnie Hunt
Moving to the silver screen, Bonnie Hunt is most known today for her roles in such successful movies as "Jumanji," "Beethovan," and "Cheaper by the Dozen." She also hosted her own talk show from 2008 to 2010 and played voice-overs for such films as "A Bug's Life," "Monsters University" and "Toy Story 3."
But what you may not know about Hunt is that before she became an actress, she trained to become a nurse in Chicago. After completing her nursing program with specialization in oncology and emergency medicine, she obtained a position in Chicago's Northwestern University Hospital. It was during her nursing career when Hunt secured a bit role in the hit movie "Rain Man."
Paul Brandt
Another country music star who began his career as a nurse is Paul Brandt. Brandt was born and raised in Calgary, Canada and is known for a variety of hit country songs including My Heart Has a History and For You. During his singing career, Brandt enjoyed such accomplishments as top new country male artist, country single of the year, and several awards for male country artist of the year.
Nevertheless, before Brandt launched his musical career, he attended a nursing program offered by Calgary's Mount Royal College with specialization in pediatrics. Brandt obtained employment with Alberta Children's Hospital after graduation. He worked as a pediatric nurse for about two years before deciding to focus on his singing career, earning a doctor of fine arts from the University of Lethbridge.
Walt Whitman
If you enjoy literature, you have likely heard about Walt Whitman. Whitman was an exceptionally gifted writer of the 19th century. Some of his best works include Leaves of Grass, Franklin Evans, and Song of Myself. While his work was a bit controversial during his time, it is revered today.
During the Civil War, Whitman traveled to the battlefield in search of his brother, George. Although George was in fair condition when Whitman found him, Whitman was horrified by the conditions of other soldiers on the war front. As a result, he volunteered his services as a nurse to help improve the plight of injured soldiers.
Tina Turner
Tina Turner is best known for the amazing work she did as a rock and roll super star during the 70s and 80s. She started her singing career with her husband, Ike. However, it was not long before Turner made it big on her own, winning a broad range of awards for such songs as Private Dancer, Acid Queen, and Love Explosion.
But what many people do not know about Turner is that after she graduated from Sumner High School in Missouri, she obtained a job at Barnes-Jewish Hospital as a nursing assistant in the facility's maternity ward. While her goal was to one day become a nurse, Turner decided to focus on her singing career instead.