What Are the Academic Requirements for LPNs?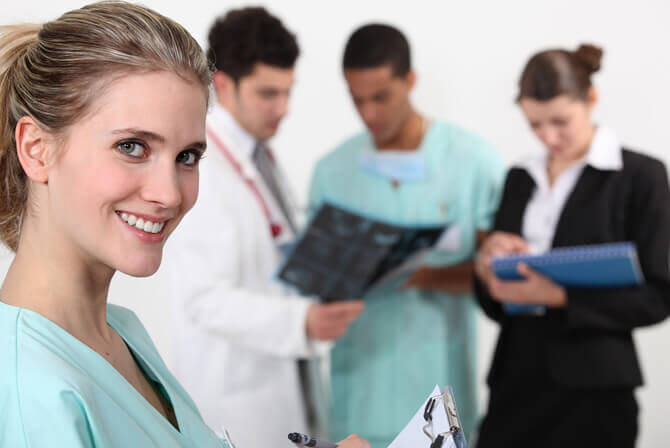 The first step to beginning a career in practical nursing is to obtain the proper education and skills that you will need for the job. These are known as academics, and the actual academic requirements you will need to fulfill will vary depending on the school you attend. However, the following criteria will give you an idea of what you can expect.
High School-Related Requirements
The most basic academic requirement for aspiring LPNs is to earn a high school diploma or GED. This is also the primary admission requirement for most colleges and trade schools today. Although it is not a requirement, it is also a good idea to focus your studies in the areas of science and mathematics during your senior year of high school.
College-Level Coursework
As an LPN student, you will need to complete an LPN program that consists of both general education and nursing-related coursework. These courses vary somewhat from one school to another and from one state to the next. Nevertheless, there are some classes that are common to most LPN programs, and you will find them listed below.
General Education Classes
As stated above, the general education classes you will need to take will vary depending on your school and the state where you attend school. The scores that you receive on your placement exams will also determine which general education classes you will need to complete. In any case, some general education classes that are often included in LPN programs are as follows:
English Composition
Computer Skills
Humanities or Fine Arts
Social Sciences
Microbiology
Communications
College-Level Mathematics
Nursing-Related Coursework
The nursing-related coursework you will need to complete as an LPN student varies significantly from one educational facility to another. Furthermore, the names of these courses often differ slightly. However, the topics of these courses are the same no matter where you choose to obtain your education. The most common nursing-related topics are:
Human Anatomy and Physiology
Pharmacology
Human Nutrition
Surgical Nursing
Community Nursing
CPR and First Aid
Legal and Ethical Nursing Issues
Geriatric and Pediatric Nursing
Clinical Training and Internships
Upon completion of your general education and nursing-related coursework, you will need to participate in clinical training. This is hands-on instruction that is typically conducted in a real-life medical setting such as a local nursing home, public hospital, or other long-term care facility.
If you wish, you can also choose to participate in an extern or internship program for LPNs. While this is not a requirement for many LPN programs, completing an extern or internship offers many great benefits including giving you an inside look at practical nursing careers and providing you with valuable experience in the field of nursing.
Continuing Education Courses
After you obtain employment as an LPN, there will be many times when you will need to complete various continuing education courses. In most cases, continuing education coursework is a requirement for renewing your license, and, as employers require from you, staying abreast of current trends in nursing.
However, more and more LPNs today are also choosing to enroll in continuing education courses to advance in their careers! Your state's board of nursing and your current employer can help you determine which CE classes you need to take, when you need to take them, and where to find them.