Tips for Writing a Nursing School Entrance Essay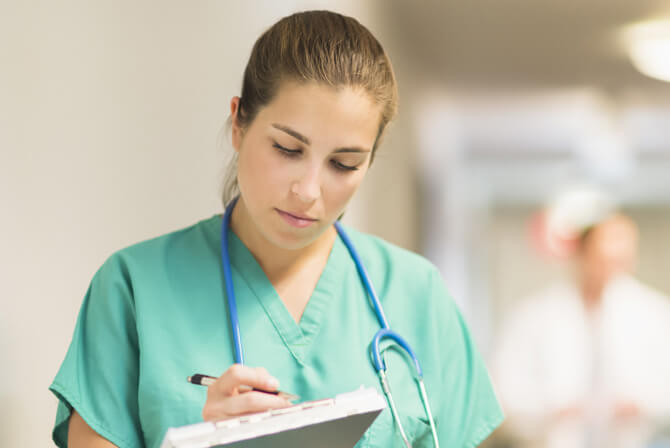 As a prospective Licensed Practical Nurse, or LPN, student, you need to meet various nursing school entrance requirements before you are accepted into an LPN program. For many schools, one of these requirements involves submitting a nursing school entrance essay, also known as a nursing personal statement or a nursing application essay. Unfortunately, this requirement is a source of anxiety for many aspiring LPNs.
The good news is that you do not need to be a professional writer to write an appealing essay for nursing school. Of course, spelling, punctuation, and grammar should not be completely ignored; however, it is the content of your essay that really matters. The following tips should help you write a nursing school essay that is sure to secure you a seat in the LPN program of your choice.
Highlight Your Good Qualities
One of the best tips for writing nursing school essays is to be sure to highlight your good personal qualities. There are certain qualities that make for great LPN students, and there are specific qualities that employed LPNs possess. Typically, some of the personal qualities that nursing schools look for include:
Dedication and Competence
Ability to Manage Time
Compassion and Empathy
Hard Working and Emotionally Stable
Willing to Work as a Team Member
Excellent People and Communication Skills
Include Relative Volunteer Experience
Volunteer work can certainly go a long way in showing your compassion and empathy for others. This type of work can involve volunteering your time at a large variety of facilities including local nursing homes, soup kitchens, homeless shelters, or food drives. If you have not performed any volunteer work, you may want to consider doing so before applying to the nursing school of your choice.
Write About What Inspired You
Another useful tip for writing an outstanding nursing school essay is to write about what inspired you to become a nurse. Did you get your inspiration from the death of someone close to you? Or maybe you were inspired by a favorite teacher in high school. When writing about what inspired you, you can also incorporate some of your personal qualities into your story.
Share Your Goals for the Future
After telling your story, it is a good idea to share your goals for the future. For example, is your goal to help sick and injured children? Do you want to help make hospice care patients more comfortable? Would you like to become part of a team that helps improve the lives of geriatric patients?
If you have specific academic or employment goals, you can share them as well. Think about where you want to be professionally in the future. Will you be happy with a permanent LPN position, or would you like to go on to a career as a registered nurse? Additionally, will you be happy in a general practice LPN position, or do you want to specialize?
Carefully Proofread Your Rough Draft
Although content is the most important aspect of a nursing school entrance essay, you will want to pay some attention to your spelling, punctuation, and grammar too. While a few errors may be ignored by most nursing schools, too many errors can make you appear unprofessional. Just make sure that you look over your rough draft carefully before making a final copy and submitting it to the LPN program director.