Can LPNs Work in Community Health Centers?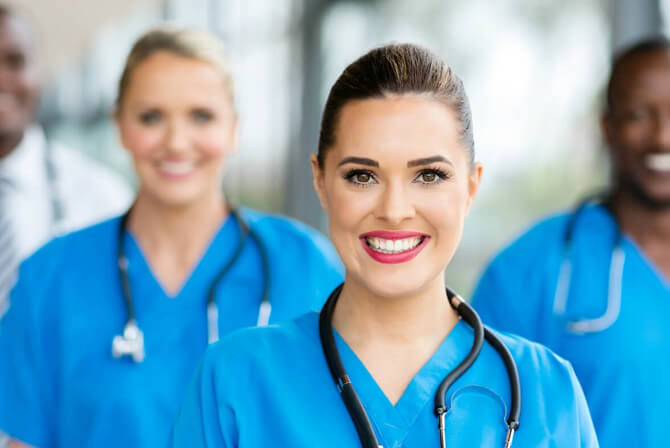 By educating the public about such things as effective disease prevention and proper nutrition, community health nurses make valuable contributions to society as a whole. Furthermore, as a community health nurse, you can choose to specialize in various aspects of healthcare, including mental health, infants and children, or family planning services.
If you are a Licensed Practical Nurse, or LPN, who wants to become a nurse in a community or public health center, there are a few steps you need to complete first. Essentially, these steps involve four basic areas: training requirements, licensing, practical work experience, and community health certification.
Training Requirements
As an LPN whose goal is to become a community health nurse, the first thing you need to do is acquire the necessary training for your desired occupation. Currently, to obtain an entry-level position as a community health nurse, you are required to enroll in and graduate from an associate degree in nursing program.
If you are a licensed practical nurse, you can cut your training in half by enrolling in an accelerated LPN to ADN bridge program. Although the length of this program varies somewhat from one school to the next, the average length is about one year if you choose to attend your courses on a full-time basis.
Required Licensing
During the last semester of your LPN to ADN program, it is a good idea to begin studying for your national RN licensing exam. This exam, commonly known as the NCLEX-RN, is the main requirement to obtaining a registered nursing license. Other requirements for obtaining an RN license include:
Fingerprint Card and/or Criminal Background Check
NCLEX-RN Examination and Licensing Fee
Current Head Shot Photo (passport sized)
Social Security Card or Other Proof of U.S. Citizenship
Proof of Current CPR Certification
Practical Work Experience
In today's highly competitive world, it is always a smart idea to gain practical working experience in your field of choice before moving up the career ladder. Paid employment in such facilities as local hospitals or medical clinics can help make your nursing resume more appealing to community health center hiring staff.
Additionally, when choosing positions to add to your resume, you will want to take into consideration the area in which you wish to specialize. For example, if you want to become a community health nurse who will be working with children, look for employment that offers you the opportunity to provide healthcare to infants, toddlers, and teens.
Community Health Certification
The last step to becoming a professional community health nurse is to obtain community health certification. The American Nurses Credentialing Center, or ANCC, offers public health certification for registered nurses who want to work for community or public healthcare facilities. Requirements for this certification include:
Proof of RN License in Good Standing
Completion of a Community Health Training Course
Public Health Certification Exam
Certification Fee